ENGLISH THEATRE MILAN –
A NEW ENGLISH SPEAKING THEATRE COMMUNITY
English Theatre Milan (ETM) is a non-profit association that was set up in July 2019. ETM aims to bring top quality theatre in English to Milan with established professionals from the UK and elsewhere. So far we have worked with theatres in Milan, such as Filodrammtici, Gerolamo, Litta and Milan's iconic Piccolo Teatro, and we have recently made an agreement with Teatro Menotti, to perform two shows in March and April. We have worked with institutions, like Milan University, British Council, Umanitaria, and currently run our Shakespeare workshop at the All Saints Church.
We produce our own plays, involving professional and non-professional native speakers of English and bilingual actors. ETM curates and promotes activities, such as open rehearsals, meetings with authors and companies, creative writing and performance workshops and masterclasses, run by established practitioners.


Bringing English Theatre to the City of Milan through Innovative Projects 
We are developing a challenging and innovative schools project, involving theatre makers from the UK, Italy and elsewhere.
We hope that many people, who enjoy the shows, will want to get involved in our other activities and decide to become ETM members. In 2022, our members numbered around 45, including Brits, Italians, American, Irish, Germans, almost all living in Milan and Lombardy. Members pay a modest annual fee, which along with donations from supporters and ticket sales, allow us to run our activities. They enjoy special discounts on our initiatives.
We welcome members of all ages and backgrounds, with a specific emphasis on young people. Our association aims to create an English speaking theatre community, based on the active participation of its members. Since we do not have our own theatre, ours is a theatre without walls that operates in a variety of theatres throughout the city and in site specific venues.
ETM's website and a Newsletter, which goes out to around 860 people, keep its members and followers up to date with forthcoming events and shows. We invite members to contribute with their suggestions and ideas.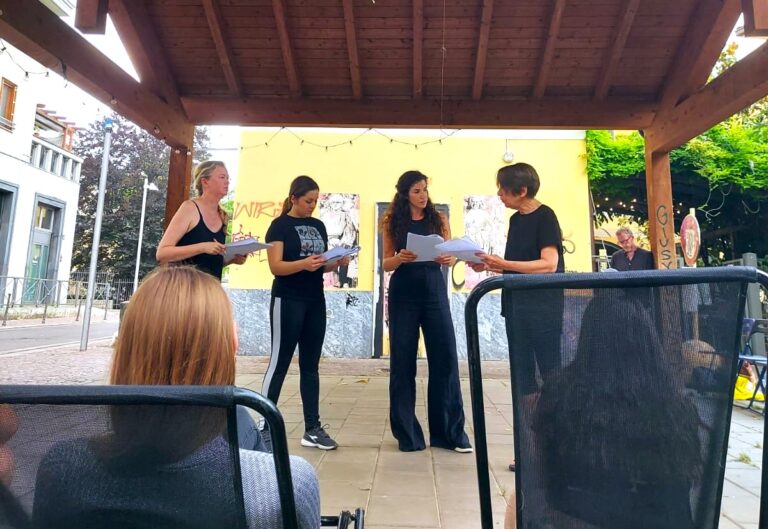 OUR MOST SIGNIFICANT ACHIEVEMENTS SO FAR
We have run two successful showcases at Milan's Gerolamo, in 2019 and 2022, bringing plays from the Edinburgh Fringe Festival to Milan. For details, see our Productions page.
We were among the first practitioners during lockdown to produce online shows: for Shakespeare's Conflict Zones, we were able to involve professional actors from around the world, including two who have worked with the Royal Shakespeare Company; we also developed an online version of the 19th century farce, Box and Cox, with a Scottish cast. The latter visited the Space during the Edinburgh online Fringe in 2021: to commemorate the 700th anniversary of Dante's death, together with poet Stephen Sexton of Queen's University, Belfast, we devised an online show, Reading and chanting Dante, including a narrative and fragment's of Dante's Inferno, in English, Italian and Sardinia.
Established UK professionals like Gareth Armstrong, Anna Marie di Mambro, Tim Hardy, Guy Masterson, Bianca Mastrominico-John Dean, and Matthew Zajac have led masterclasses on a variety of topics: performing, directing and producing one person shows, writing for television and developing online plays.
OUR GOALS FOR 2023
We will present award winning actor Gerard Logan's Night Terrors at the 500 seater Teatro Menotti in March.

 

We will present our in house production, Hilde. Living without love. Songs by Marlene Dietrich, in April at Teatro Menotti. We hope to transfer the play to the 2023 Edinburgh Fringe.
In April our in house production of Shakespeare's As You Like it, with Music and Songs will play in a garden and theatres. This reduced version of Shakespeare's comedy has an all-female cast.

 

In autumn we are planning our 3rd showcase of plays, "Straight from the Edinburgh Fringe". The selection will be made by a group of English Theatre Milan members who will attend the Fringe with us.
We wish to develop further our schools network and are seeking partners.
Melissa is a performer, director, and theatre administrator specializing in communication, education and production. Born and raised in California, USA, she received her B.F.A. in Theatre Performance and B.A. In Italian Language and Culture simultaneously from Chapman University. She then went on to earn her Masters in Performing Arts Management from Accademia Teatro alla Scala in Milan, Italy. In the past she's worked with associations such as Teatro alla Scala and Milano Off Fringe Festival, and she currently collaborates with Piccolo Teatro di Milano. For more information, check out her website at https://melissalmarino.com/
Melissa Marino
Artistic Coordinator/ Board Memebr
Madeline is a performer and teaching artist who came to Milan in 2019. After graduating with a BFA in acting from Carnegie Mellon University, she moved to New York where she acted in projects including Fun Home on Broadway, Julius Caesar with Pocket Universe off-broadway, and the series Outsiders on WGN America. As a teacher, she has worked at Brooklyn Acting Lab, Istituto San Giuseppe, and in 2023 will begin teaching theatre and acting classes at public schools and acting academies in Milan. For more information, please visit her website www.madelinewolf.net.
Madeline Wolf
Board Member
Hugo is an Irish writer and journalist living in Italy for 15 years, covering food and travel as well as current affairs for a variety of international newspapers and publications. Hugo had a former life as an actor when living in Dublin, spending nearly two years acting professionally (mostly in theatre, but he has credits in television and in feature films.) He also studied film-making in his early twenties. After many years away from his acting interests, Hugo decided to return to drama after the pandemic, realising that it was something that always brought him great joy and satisfaction. Hugo continues to develop numerous scripts that he has written, and collaborates with acting groups in Milan. "I'm grateful to be part of a community of actors who like to work in my native tongue," he says. "Self-expression through drama has been and is an important part of my identity, and returning to it has given me more than I thought it would. Anyone who has moved to a country where you don't speak the language and operate as an outsider, I'm sure can relate."
Hugo McCafferty
Board Member
Orla is Irish-born, studied modern languages in the UK and has been living in Italy for over 30 years. After a first career as a European linguist in the Civil Service, Orla moved into the financial services sector, where she managed a series of start-ups for British and American companies entering the Italian market. For the past 13 years she has been working on antifraud solutions in the insurance and banking sectors. She is a Non-Executive Director of Standard Ethics, an independent London-based agency operating in the world of sustainable finance and ESG (Environmental, Social & Governance), and acts as a consultant for the government agency Enterprise Ireland, assisting Irish companies enter the Italian market. Orla loves theatre as well as singing and hiking.
Orla Ralph
Board Member
"I was thrilled and honoured to be invited to present several shows in Italy with English Theatre of Milan in several beautiful theatres - Filodramatici and Teatro Litta and Teatro Gerolimo with The Devil's Passion, Shylock, A Christmas Carol and Scaramouche Jones, and to work so closely with Julia, Margaret and Sal and to sample the delights of Milan and their wonderful hospitality. It really is a pleasure to bring theatre to a cultured and diverse audience that loves the English language in all its glory!"
Having been fortunate enough to act and direct in several other European cities with a flourishing English Theatre, it was a real pleasure to be in at the launch of Milan's enterprise. Visiting the city again, with my production of "My Darling Clemmie" at the exquisite Gerolamo Theatre, I was reminded what a vibrant theatre scene and what responsive audiences the city has to offer. I am sure the MET (or whatever the right acronym might be?) will go from strength to strength.
It was a great pleasure for me to be invited to present a masterclass with The English Theatre of Milan. Maggie Rose, Sal Cabras and their colleagues have a deep knowledge and understanding of theatre and how & why it works. They are erudite, serious and also blessed with a great sense of humour! I am very impressed with the high level of professionalism they approach their work with, and by the excellent quality of those who subscribed to the masterclass. While I was very happy to be given this opportunity, I received great rewards through the perceptive responses of the participants. I would recommend this experience to any other theatre practitioner.